Transforming Healthcare Education: How Sim*Vivo Elevates Excellence in Simulation Training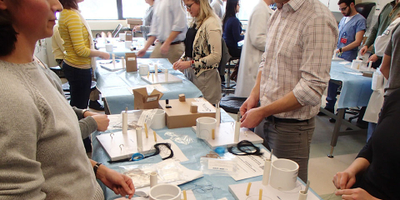 Healthcare simulation has become an integral part of medical education, offering students, professionals, and educators an environment to practice and refine their surgical and clinical skills. As the demand for effective training methods continues to rise, so does the need for high-quality, cost-effective simulation supplies and training material. Sim*Vivo has played a pivotal role in elevating simulation training and has developed products to transform this experience. Let's delve deeper into how Sim*Vivo can enhance your training experiences by offering a wide range of high-quality and budget-friendly products tailored to your simulation needs.
Unmatched Quality: Sim*Vivo's Commitment to Excellence
At the heart of healthcare simulation training lies a fundamental truth: its success hinges on the degree of realism and precision the tools and supplies bring to the learning experience. We understand the authenticity of the simulation directly impacts the quality of training and bearing this crucial aspect in mind, we have spared no effort in ensuring each product meets the highest standards of quality.
Realism and Authenticity: Healthcare professionals are required to perform intricate procedures and make critical decisions under pressure. Therefore, their training should mirror these real-world challenges as closely as possible. Our products are engineered to replicate real-world scenarios. Whether it's sutures, instruments, supplies, kits or complete learning systems, our products provide true-to-life tactile feedback. The commitment to realism ensures that your training experience is as close to the OR, ER, or clinical situation as possible.
Durability and Longevity: Quality extends beyond realism. Our products are built to last with durability in mind. You need training tools you can rely on, and our durable supplies are not simply teaching aids, you can consider them dependable training partners. Every element is engineered to withstand the wear and tear of frequent use and is designed to be a reliable part of your training toolkit for the long term.
Accurate Feedback: For healthcare providers, receiving accurate feedback during training is essential and a catalyst for continual improvement. Our products offer precise feedback, allowing you to identify areas for improvement and track your progress, thereby refining skills and advancing proficiency. It empowers learners to make immediate improvements or adjustments while cultivating a sense of confidence that extends beyond the training environment.
Budget Friendly Solutions: Accessible Excellence
We believe high-quality healthcare simulation should be accessible to everyone, regardless of their budget constraints. This commitment to affordability sets us apart in the world of healthcare simulation.
Cost-Effective Learning: Education can be expensive, and simulation training is no exception. We understand this and offer a range of budget-friendly solutions, ensuring you can access the best tools without breaking the bank. This affordability makes it easier for institutions, educators, and learners to invest in the resources they need to excel.
Eliminating Compromises: Often, the idea of budget-friendly products raises concerns about compromising on quality. We eliminate this worry by providing products that offer both high-quality and affordability. You can have the best of both worlds without any trade-offs.
Skill-Specific Learning Systems and Practice Kits: We offer a wide range of skill-specific systems and kits that contain all the supplies needed to master a specific surgical technique or clinical skill. These comprehensive kits are meticulously designed to offer more than just tasks and tools; they provide an immersive and focused learning experience tailored to your objectives. By seamlessly aligning your training with specific skills, our kits not only streamline your educational journey but also enhance your capacity to achieve mastery.
Specialty-Focused Supplies: Whether you plan to practice in the field of surgery, emergency medicine, nursing, or any other healthcare specialty, we have supplies tailored to your unique requirements. This specialization ensures that you're practicing with tools that closely align with your future practice.
Empowering Excellence: The Sim*Vivo Advantage
In the world of healthcare simulation, success is defined by your ability to replicate real-world scenarios, receive accurate feedback, and continually improve your skills. We are engineered to empower excellence in healthcare simulation, education, and training.
Real-World Preparation: Simulation is not just about going through the motions. It's about preparing for real-life situations with confidence. We ensure that you're not just practicing, but rather, you're preparing for excellence in the field.
Confidence Building: The more realistic and accurate your training, the more confident you'll be when faced with real patient scenarios. Our commitment to quality and authenticity is your path to confidence.
Measurable Progress: Improvement comes from understanding your strengths and weaknesses. Our products provide you with the tools to measure your progress and make targeted improvements.
Explore the Sim*Vivo Digital Catalog to elevate your simulation training.