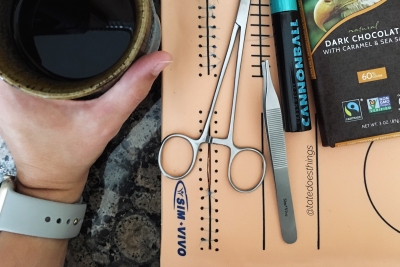 Read original post on Tate"s Blog!
I've had the kit for several months now and I feel like I have a greater appreciation for the product after four weeks on my surgical rotation. I had so much anxiety about starting my surgery rotation. To alleviate some anxiety, I used my Sim*Vivo kit to practice suturing so I would feel more confident for when the surgeon handed me my first needle driver!
When I first got this suturing kit over the summer, I went to Sim*Vivo's website to find links to tutorial videos. I really loved that Sim*Vivo had tutorials to introduce the instruments along with how to hold them. Learning to handle instruments properly is very important and figuring that part out before having a surgeon watch me suture was very helpful!
There was step by step instructions on how to do the following techniques:
instrument tie
simple interrupted suture
running simple suture
vertical mattress suture
running subcuticular suture
I enjoyed being able to watch the video and then practice the technique on my own. The suturing board is the perfect size to fit in my lap so I could suture and watch a movie with my husband - or listen to a podcast. It's very convenient to have all the materials I needed to practice at home!
The kit comes with the following materials:
Suturing board
Adson forceps
Hegar needle holder
Suture scissors
Scalpels - #10 and #15
Suturing guidebook (that follows along with the videos)
Suture packs (10 in each pack)
3-0 nylon with 30 mm needle, 3/8 circle, reverse cutting
3-0 nylon with 24 mm needle, 3/8 circle, reverse cutting
4-0 nylon with 19 mm needle, 3/8 circle, reverse cutting
I practiced all of the suturing techniques before starting my surgery rotation and the repetition really helped me feel more confident! Sim*Vivo was key to helping me feel prepared for suturing on rotations. I brought home different types of expired sutures from the hospital to practice what suturing would feel like with different materials. I also worked my way up from straight incisions to curved ones - and that was all possible with this suturing board! The integrated lines and dots helped me get the movements down before practicing on an incision without the marks to guide me.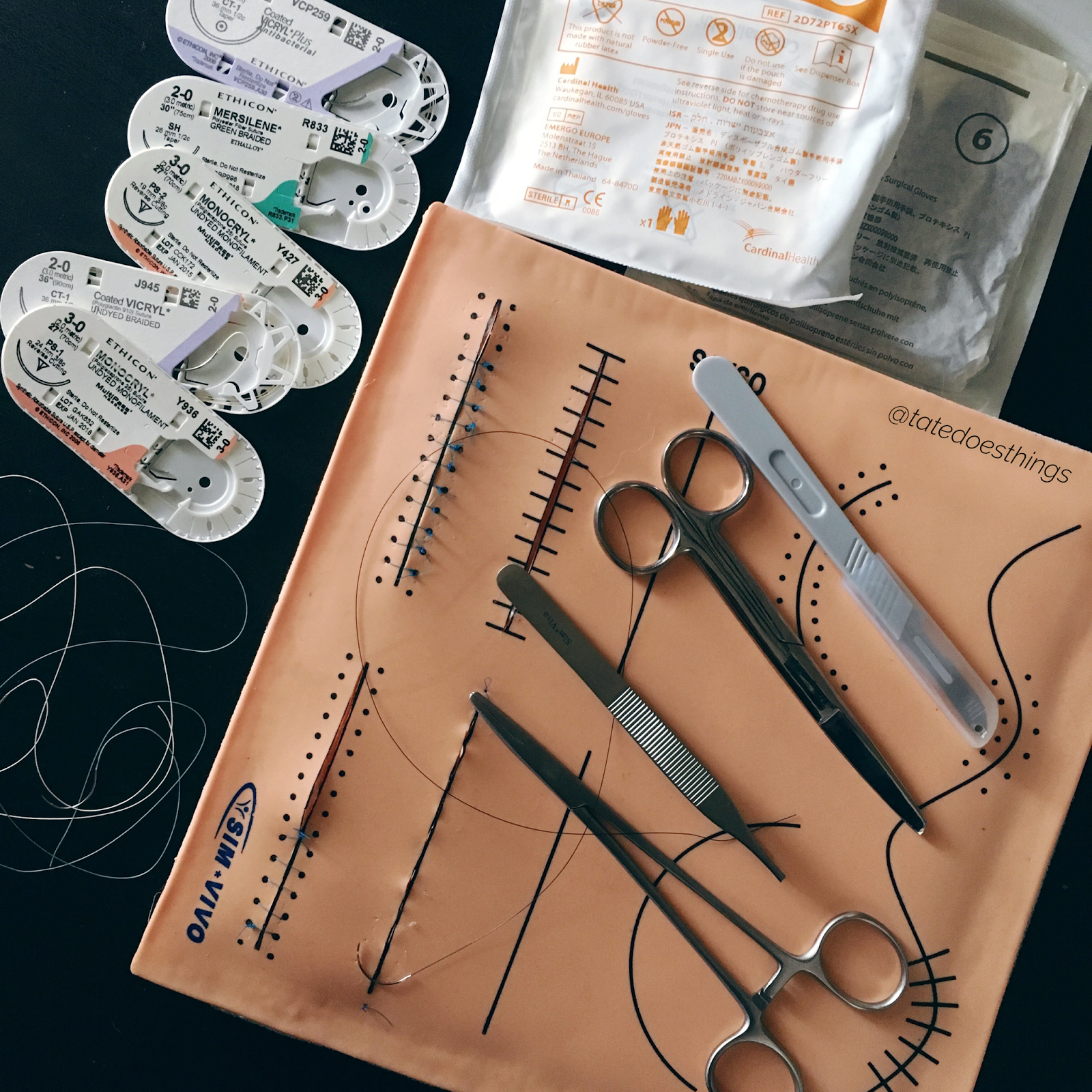 Although no model will ever perfectly simulate human skin, I found that learning the basics of the techniques on the Sim*Vivo kit was a good guide. Subcuticular suturing is actually far easier on human skin than it is on the Sim*Vivo model, but mastering the technique on the suturing board made suturing much easier on a real person. :) Repetition is key!
I'm thrilled to have my suturing board from Sim*Vivo to practice throughout my clinical rotations. It will continue to help me throughout surgery, OBGYN, and pediatrics! Suturing is an important skill for any specialty. Check out Sim*Vivo's website for more information about getting yourself a suturing kit too!