Announcing Sim*Dissect Learning System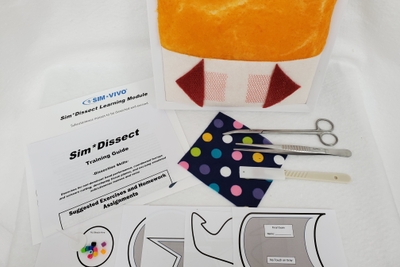 There aren't many surgeons in this world who can perform precision cutting, dissection, and wound closure with only one hand. (If you find one, please share their contact information with us. We'd love to meet them!)
Developed by trauma surgeon Dr. John Fortune, the Sim*Dissect Learning System focuses on developing and practicing skills centered on the precise use of a potential surgeon's non-dominant hand. As a surgical educator, Dr. Fortune recognized that many young surgeons have difficulty coordinating their dominant and non-dominant hands during two-handed dissection.
This learning module is a fun, yet progressively challenging way to learn how to use both your dominant and non-dominant hand for surgical procedures and, ultimately, learning how to excise masses and dissection.
DeBakey forceps, Metzenbaum scissors, and a scalpel along with beads, a post, paper cutouts, fabric, and a dissection board are all included in the Sim*Dissect Learning System.
It all begins with training your non-dominant hand
First, we start with the simple task of printing your name with your non-dominant hand. You'll then progress to transferring beads onto and off a post using DeBakey forceps. From there, you'll begin cutting shapes out of paper using those same DeBakey forceps and Metzenbaum scissors.
Note: don't grip the paper too hard with those forceps. A gentle but firm hold of the paper close to your cutting area will help you gain accuracy. Dr. Fortune says, grasp and cut…. grasp and cut… grasp and cut.
Think that's too easy? Then let's move on to cutting fabric circles. The fabric is loose, floppy, with no structure at all. Again, you'll need to use both hands for this exercise, paying close attention not to grasp the entire fabric with your forceps. Keep saying it to yourself, grasp and cut… grasp and cut… grasp and cut.
And then onto the Sim*Dissect board
Once you have mastered precision with both your dominant and non-dominant hand with the above exercises, it is finally time to move onto the Sim*Dissect board. Here, you will find different tissues that need to be separated before you can dissect a mass or vein. You'll work on finding and working along the natural tissue plane. Retract with one hand and spread or cut with the other! This will again require you to use your forceps and either scissors or a scalpel depending on the adherence of tissue to one another.
Slowly work your way through this separation of tissue. The goal is not to just rip it all apart. Think about your patient! They will appreciate your care and delicate MOVEMENTS.
Remove each piece of fabric from each other utilizing the skills you have just practiced. Once you have completed the removal of all the tissue, now you can get to excising!
The enclosed diagram will show you exactly where you will find four (4) one-inch masses, two (2) two-inch masses, and two (2) veins that are buried within the simulated subcutaneous tissue. The exercise here is to use your forceps and scissors to cut and/or spread the surrounding tissue to remove the masses. Your goal is to remove the masses with as little of the adherent tissue as possible.
As you learned previously, gently grasp the mass to aid in the precision of your separation. Remember, grasp and cut… grasp and cut… grasp and cut.
Progress from one mass to the next. We trust you will get better and better with each one. Once all six masses have been removed, you can move onto the simulated veins and perform the same procedure.
Many of the exercises in the Sim*Dissect Learning System can be performed repeatedly thereby gaining greater confidence in the use of your non-dominant hand.
The Sim*Dissect Training Guide, written by Dr. Fortune, is included with your learning module. He details for you each exercise, the purpose of the exercise, and how to imagine using these procedures in the operating room.
The entire Sim*Dissect Learning System is shipping now at a special introductory price of $49.95 through December 31, 2021. It includes:
· Sim*Dissect Board composed of simulated fatty tissue, tumors, and veins
· DeBakey forceps
· Metzenbaum scissors
· #15 scalpel
· Beads and post
· Paper cutout patterns
· Cloth cutout patterns
· Training Guide
Training videos are available on both our website and our YouTube channel.